Apparatus for green sand quality control
Compactability Tester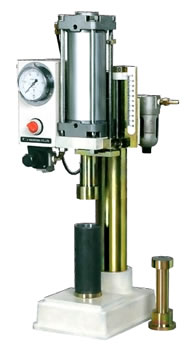 Molds made by today's molding machines have high compression strength exceeding 2kg/cm2 (50fx50H TP) , and hence certain countermeasures are necessary to prevent casting defects caused by gas formed by combustion of organic materials in shell mold cores and other mold parts.
Compactability test is a useful tool for quality control of mulled sand with appropriate density and fluidity for the above purpose.
Feature
This is for measuring compactability of molding sand, consisting of an air pressure type tester and a sample holder.
Compactability test is a quantitative replacement of a qualitative evaluation of molding sand by the feel of a palm when squeezing sand. Amount of moisture and clay in sand as well as oolitic content and degree of mulling can be evaluated by this test. The test is simple to perform and useful for quick determination of sand quality in laboratory and on production floor.
Specification
Compactability Tester

| | |
| --- | --- |
| Type | NC-CBT-1 |
| Height | 680 mm |
| Floor area  | 330×230 mm2 |
| Weight | 40 kg |
| Compression type | air compression |
| Nominal compression force | 10 kg |
| Read method | memory |
Compactability Tester
(
Digital display specifications

)

| | |
| --- | --- |
| Type | NC-CBT-2 |
| Height | 680 mm |
| Floor area  | 330 × 230 mm2 |
| Weight | 40 kg |
| Compression type | air compression |
| Nominal compression force | 10 kg |
| Read method | digital |
| power source | 100V |
Sample processor
| | |
| --- | --- |
| Height | 380 mm |
| Floor area  | 210 × 210 |
| Sieve diameter | 150 mm φ |
| Mesh size | 6 mesh |