Portable and simple hardness tester of self-hardening Mold
NK-009
Features
Furan, Phenol, CO2, or Shell mold cores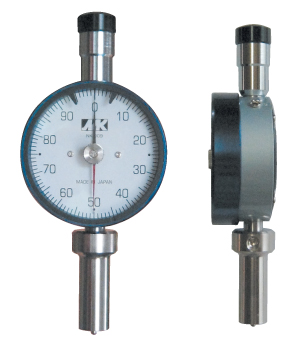 Simple and portable mold hardness tester for easy on- floor-testing.
Density of self-hardened molds can be adjusted from the test results.
Great contribution to high quality products.
A limiter is provided for setting an allowance range of hardness.
A red hand is provided to indicate the maximum measurement.
Portable hardness tester (H123 mm×W55 mm×T24 mm)
Hardness test method
Set a mold surface horizontally. Hold the tester securely with hand and lower it vertically at a constant speed pressing it on the mold surface. The maximum value is read immediately after the contact. Measurement made askew or upward or on a vertical surface may lead to erroneous results. Though the testing method is simple, care must be exercised for stable measurement;
Use a test mold with a flat test surface accompanied with an opposing surface which also is flat and parallel to the test surface.
Stand upright and try to lower the tester at a speed as constant as possible. Normally the maximum value is read. However, the value after a certain time from the moment of contact may be used in some cases. In such a case, the value may depend on the time, particularly when the indication decreases with time during contacting.
Cautions in use.
The following cautions are important for long time use of this precision measuring instrument.
Do not overhaul. Do not modify. Do not loosen screws.
Do not drop or give a shock. Do not apply unnecessary force.

Avoid direct sunshine, high temperature, low temperature, moist, or dust.
Avoid contact with water and oil either during use or in store.

Do not press the sensor against hard surfaces such as glass or metal, except when necessary in testing or checking.

Do not clean the tester with organic solvent such as benzene or thinner. Do not put oil or grease.

Do not apply lateral force to the sensor. Avoid hitting a hard material with the sensor.
Specification
Type
NK-009
Test load
0 mN `@44450 mN
(0 gf `4533 gf)
Base shape
flat 12 mm diameter
Sensor shape
2.38 mm diameter
Overall size
123mm high × 55mm
wide × 24mm thick
| Hardness indication | mN | gf |
| --- | --- | --- |
| 0 | 11112.5 | 0 |
| 25 | 11112.5 | 1133.25 |
| 50 | 22225.0 | 2266.50 |
| 75 | 33337.5 | 3399.75 |
| 100 | 44450.0 | 4533.00 |
Note: The above values are only approximate.
Note: Values for quality control should be determined by the user.