Automatic Cutiting, Automatic polishing and graphic analysis of nodularity for spheroidal graphite cast iron

Quick Polisher automatically tells you the nodularity of your cast iron melt within about 6 minutes after receiving a test piece cast by pouring your melt in a proprietary shell mold cup.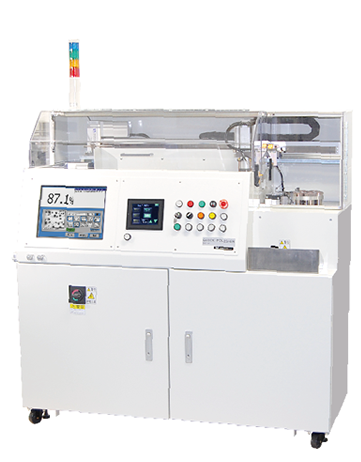 Features
In-line installation
Because of its dry system, NAP-02 can be installed in a production line. Because of its automatic system, personal bias is avoided both in the polishing step and the structural analysis step. Further, analysis result is obtained within a few minutes and hence, can be immediately fed back to the melting operation.
Full automatic operation
All the processes from polishing to nodularity determination are done automatically, except the initial test piece casting.
In-line determination
Nodularity can be determined within 6 minutes at the minimum, and hence, quality judgment is done while the product is still in the production line.
Comparison
NAP-02
NAP-01
worker
Time for judgment
6 minutes
6 minutes
about one day
TP processing before polishing
Automatic cutting
Cutting is necessary
Company standard
TP processing method
dry
-
dry / wet
Polishing
dry
wet

Installation
in-line
laboratory
Polish quality
complete polish for imaging
operator dependent
Data source
averaged from 5 views for one TP
operator dependent
Record
data is stored
test piece is stored
Personal bias
none
unavoidable
On each process step
TP automatic cutting
*Out the sound
Step: 1st
Quick polishing
automatic polishing
*Out the sound
Step: 5th

| step | 1st | 2nd | 3rd | 4th | 5th |
| --- | --- | --- | --- | --- | --- |
| polishig | rough finishing | medium finishing | fine finishing | finishing | wiping off |
Customizing the polishing operation
Automatic imaging
*Out the sound
Optical analogue type:Imaging corresponds to magnification of 100x, 0 views
Digital image storage:5 views (auto select)
Automatic analysis
*Out the sound
The analysis data can be stored.:The averaged value from 5 views is displayed.
The analysis data can be stored.
Specification [ Type : NAP-02 ]
Size
W1400×D600×H1420 cm *Except protrusion
Weight
530kg
Procedure
JIS or NIK
Time
The whole process: Within 6 minutes *the set
Noise suppression
Noise sources are enclosed inside the unit to keep the noise level below 85 db.

Safety measures

Automatic shut down of the instrument for incomplete closing of upper cover and test piece door.

Dust collection

Location: Installed inside the unit.

Supply
AC3phase 200V/220V 50/60Hz
Used electricity
Power
AC3phase 200V/220V 50/60Hz
AC single phase 100V 50/60Hz
Control
AC single phase 100V 50/60Hz
Electromagnetic circuit for air value
DC24V
Total electrical capacity

6kVA(30A)
Compressed air

0.5[Mpa] (Min.0.4[Mpa]) *Dry and clean air
Air flow volume

75 liter/min or above
Paint
5GY8.5 / 0.5
Cut
| | |
| --- | --- |
| Step | 1 |
| Cut method | Dry wheel polishing |
| wheel diameter | φ200mm |
| attaching / detaching | one-touch action with a center cap (Exclude cutting) |
Polishing
Step

rough finishing
medium finishing

fine finishing

finishing

wiping off

Polishing method
Dry wheel polishing
wheel diameter
φ200mm(1st)、other φ100mm
attaching / detaching
one-touch action with a center cap (Exclude cutting)
Speculum

| | |
| --- | --- |
| Magnification | ×100 |
| Field of view | 10 field of view |
Analysis
| | |
| --- | --- |
| Method of analysis | JIS, NIK |
| Monitor | 15 inche Touch panel(Supersonic type) |
| OS | Windows Embedded |
| Interface | USB port × 2 |
Test piece
| | |
| --- | --- |
| Shape | Cylindrical |
| Diameter | φ20 Taper 0.1° or less |
| Length | 80±5mm |
| Material | FCD |