A new type instrument for nodularity determination
SGR Series Windows Edition /

SGR-WIN
The final melt after spheroidization is poured into a Mg-Cup and nodularity is determined within only three minutes!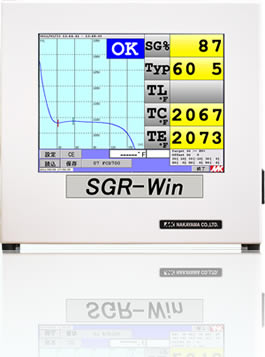 The same melt is poured into Mg-TP as well as Mg-Cup. Correlation with TP image analysis is obtained and the data is input. SG% in the basic program is automatically calibrated.
Features of SGR-WIN
Features
Calibration curve is automatically corrected
by inputting data.
Nodularity of FCD and CV is measured (SG%)
Touch panel type
(15 inch).
precision ±5%
Data saved
for three years
Past record can
be referred.
Screen Display
Select any material. Temperature is detected and analysis is displayed.
Screen for SG
Screen format can be customized.
Switching of temperature unit: deg.C / deg.F
Switching of temperature display accuracy: A degree / a tenth of a degree.
Switching of language: Chinese / English / Japanese
Experimental results suggest the following factors to be important for nodularity improvement.
Properties of the original melt before Mg treatment.
Performance of Mg treatment and inoculation.If eutectic solidification is above 1150° C (2102° F), improper Mg treatment and hence, insufficient nodularity may be suggested. If eutectic solidification is between 1130 and 1135° C (2066 and 2075° F), well-grown nodular graphite may generally be expected.

Chemical composition of the melt, including carbon equivalent and minor residual elements.
Casting section thickness.

Pouring temperature, time before pouring, and other process variables.
cooling curve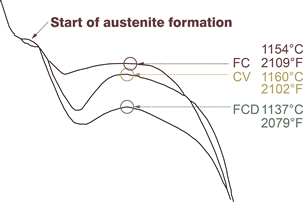 Specification
Dimension
W410 × H360 × D130(mm)
Monitor
15 inch touch panel (supersonic type)
OS
Windows XP Embedded
Memory
4 GB (for three years)
Temperature spec.
JIS-K temperature range 0 to 1370°C
precision
SG% ±5
Power source
(AC)100-240V
Weight
11kg
Accessories
a set of cup stand (5 m)
a touch pen
a USB memory for data handling